Back when I was shooting Detention in 2010, Kickstarter wasn't really a thing. If I made it today, I would probably raise money through Kickstarter and this is how I would have listed it:
DETENTION KICKSTARTER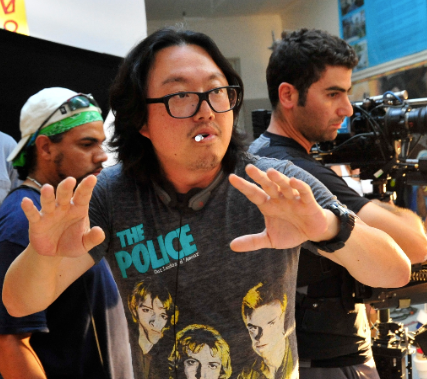 Detention is a movie. I'm not going into the plot because it'll just scare you away. Seriously, we'll get no donations.
PLEDGE $1 OR MORE
You cheap fuck.
PLEDGE $5 OR MORE
Congratulations! You're still kind of cheap, but at least it wasn't a fucking dollar. I mean seriously, kickstarter will charge us more to process that dollar then us actually getting it.
PLEDGE $25 OR MORE
This gets you the FRESHMAN package which gets you into a screening of "Detention" at co-writer Mark Palermo's house. Mark Palermo does not know I offered this but he's Canadian and too polite to refuse when you show up.
PLEDGE $50 OR MORE
This is the FRESHMAN PLUS package, which includes showing up at Mark Palermo's house to watch "Detention" PLUS following it with a screening of the Marlon Brando/Matthew Broderick comedy "The Freshman." If Mark Palermo does not have The Freshman on dvd, you may have him re-enact scenes from the movie including interpretations of endangered animals. Again, he is Canadian so he will be too polite to refuse.
PLEDGE $100 OR MORE
This is the SOPHOMORE package, which includes everything in the FRESHMAN PLUS package, but now gets you into the afterparty at Aaron David Johnson's house. Aaron plays "Sander" in our movie and he is a new talented young actor, which is Hollywood speak for "broke." This afterparty will consist of eggcrate chairs, a refridgerator full of ketchup packets, and a 16 hour lecture by Aaron on why Anthony Hopkins is a great actor (seriously). Do not use his toilet, it will not flush.
PLEDGE $500 OR MORE
Free cocaine!
PLEDGE $2,500 OR MORE
Welcome to the JUNIOR package. It's kind of nuts you spent this much donating to our movie and we frankly feel a bit of pressure here. It's obvious this money means a lot to you since if you were really rich you would have donated more, so it's kind of a compromise amount. You're saying I want to look like a baller, but I can't really afford to go all out. Also, please don't let my spouse know I gave you this much money, we still have bills to pay. Honestly, just take your money back. This is just too weird.
PLEDGE $5,000 OR MORE
The JUNIOR EXCELSIOR package: you get the Freshman, Freshman Plus, the Aaron David Johnson afterparty, skip that Junior part of getting your money back, and we kill a lamb as a blood sacrifice in your honor. If you would like to have sex with the lamb beforehand, whatever you want weird rich guy.
PLEDGE $10,000 OR MORE
We are going to Las Vegas and getting hookers. None of this money is actually going to go into the movie, and my hooker is going to be more expensive than yours. I will probably not last very long, so you can have my hooker after while I cry in the bathroom. Awkward.
PLEDGE $100,000 OR MORE
The SENIOR package! You may sleep with any cast member within one year of the film's release.
PLEDGE $500,000 OR MORE


SENIOR PLUS! You may kill any cast member within one year of the film's release.
PLEDGE $1,000,000 OR MORE
SENIOR PLUS PLUS! You may kill any cast member within one year of the film's release, however you now get to do it with a bow and arrow. We have to call you "Katniss."
PLEDGE $100,000,000 OR MORE
GRADUATION package! You have now reached "Detention Level Seven" in which you are now a walking God, can heal the common cold with just the power of your hands, and will live for a billion years. Paypal only please.